Living and Worshipping as the Body of Christ
Reading a book in itself is a relationship.  You soon become connected by sharing time and thought.  I have read much over my life and I have grown selective of what I read.  I have favorites and certainly one is any thing by Everett Ferguson.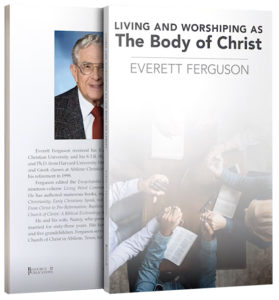 Now, it is Living and Worshipping as the Body of Christ.
Without question, this short volume is my favorite.
As always, Dr. Ferguson is able to present biblical truths in its original cultural setting in such a way that the reader of today can grasp the deeper doctrinal lessons.    
This particular work is actually a compilation from decades of his scholarly research.
Here he deals from scripture on the various aspects of the worship of God by His people.
It's an easy read, but it is powerful.
Certainly, there is no more a relevant topic than the living and worshipping as the body of Christ. It is well worth your time.
– Greg Swindle, Herald of Truth Ministries